I'm Akuja Eresto Taban from South Sudan. I'm qualified in supply chain management and also having studied Procurement and Logistics management in different institutions including Nkumba University in Uganda and Assam Don Bosco University, India. I've also interacted with many entrepreneurs as part of my work co-hosting a business program on FM station gathering business tips and tricks along the way.
Budget Breakdown (approx)
We can connect you with the project owner if you would like to fund this project directly
An unhealthy environment, poverty and unemployment are three main factors that pose a great challenge to many people in South Sudan. These problems can be solved through entrepreneurship, which can provide the products that people need locally and also create jobs in various parts of the supply chain, including distribution and retail sales. The project is therefore in line with Sustainable Development Goals (SDGs) No. 1,3,6 and 8.
I already have a company, Golden Era investment Company Ltd, which deals in productions and distribution of sanitation products. Some of these products include disinfectants, liquid soap, hand wash and toilet cleaners. The funds sought in this proposal are to help expand the operations of the company. Since this is an existing project, I have gained several insights on crucial aspects such as sourcing of materials, demand trends and the best supply channels. Currently, I am a co-host of The Business focus, a program aired by 88.4 City FM in Juba giving me a marketing advantage.
Supplying sanitation products can be a competitive business since there are many players including multinationals looking for new markets to venture into so that they can sustain profitability. Despite the expected competition, the chances of success are high especially for a company like ours that started small. When we started, it was all manual operations but we still managed to create good quality products. We also capitalized on good customer care to grow our customer base and staff members daily. The lessons learned with the smalltime operations will help run big operations sustainably. Over the period, we have accomplished different milestones including:
Acquiring an office run by 5 staff members
We were selected to by YALI Regional Leadership Center East Africa-USAID for training as Young Change and Makers under Business and Entrepreneurship Track. We are also invited by the Tony Elumelu Foundation Entrepreneurship Program, 2020, for further business training.
We have already bought a piece of land in Juba where we plan to set up a production plant with the necessary mechanization to meet future expansion needs.
We have managed to sponsor two staff members for capacity building training in Nairobi.
The proceeds from sales sustain all business expenses including paying staff salaries
The funding Golden Era Investment Company Ltd is seeking will help build up the small successes that we have already achieved.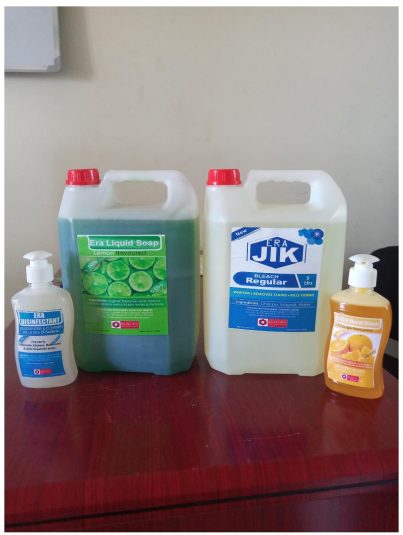 Target Market
There is a high demand for sanitation products among individual consumers and institutions such as schools, hotels, clubs, hospitals and government offices. Golden Era Investment will be targeting to sell to all these groups. We will also be targeting bulk buyers such as cleaning companies, which need the products for their day-to-day operations.
Value delivery to customers
Golden Era Investment seeks to provide high quality cleaning products at affordable prices. We cut costs by completing some of the production processes locally. Employing locals also helps in costs reduction and better penetration of the markets. With your funding, we can increase production to benefit from economies of scale either thus saving customers more money by offering better prices or improving the quality of life for people involved in the supply chain by leaving better margins
Reaching, Acquiring and Keeping Customers
Golden Era Investments uses different approaches to reach the targeted customers including informing people about the availability of the products and the benefits of using high quality sanitation products. My background working with the media helps by creating better channels for advertising. Kenyan, Ugandan and Dubai companies supply most of the products available in the market. Therefore, as a local company, the idea is to plan the home advantage to capture more customers.
Revenue generation
The main source of income for the company is the sale of soap, detergent and related products. A significant percentage of the market in South Sudan is still untapped, which gives our company a realistic chance of generating sufficient revenue. Apart from the income generated from sale of products, the company can generate additional revenue from other sources such as distribution of other products.
Advertisement: Proposal Continues Below